Personalized Chrysler vanity license plate idea inspired by Aliens: ALI3NZ
This Michigan registered personalized vanity license plate which references aliens. This even has a bumper sticker of the alien meme with Giorgio Tsoukalos. So it probably isn't taking aliens too seriously, but may just like the meme's.
Then again, right before the COVID-19 pandemic there was a significant build in internet chatter to just show up at Area-51 and demand to see what type of alien activity is really going on in there, as the rumors, and urban legends have been purporting for decades.An organizer had started a Facebook group which had gained about 2 million people claiming they would attend the event, which was later cancelled.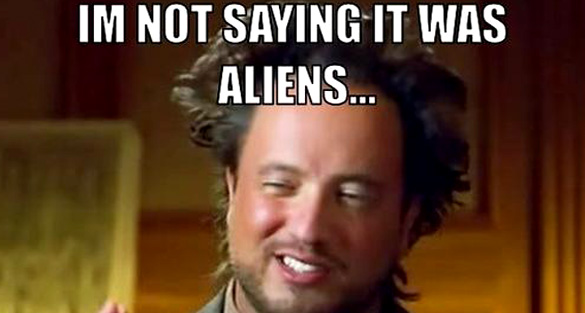 Lastly thanks to John for sending this one in for us to share with you!
Looking for more Chrysler and engineering inspired vanity license plate ideas?
View all of our other personalized RAM truck Vanity License Plates to get your very own ideas.  Or check out the top selling brand in America the blue oval Ford brand vanity plates for more vanity plate ideas for trucks. Maybe even check out the number two Chevrolet or GMC truck vanity plate ideas.
So you saw a great vanity plate, an epic busted ride? Maybe you want to show off your own personal vanity license plate, because well you are vain, well here are the rules.
Send us a high quality picture, the work must be your own.
Let us know how you'd like to be credited, we'll credit your name or alias, and link to your Facebook or Twitter, or other social networking profile if you wish.
Send any photo's you wish to share to [email protected].  Gmail has a 15 mb files size limit.
You may also Tweet them to us @bustedride
We can't promise when your photo will be posted.