Top 24 Uses of MSU S to Show on Vanity Plates
The Best Uses of Michigan State University (MSU) S to spell with Personalized Vanity License Plates
We have assembled rather painstakingly the best collection of Michigan State University (MSU) big green S personalized vanity license plates that spell some words using that big green S.
In the state of Michigan our drivers can get a special Michigan State University plate that puts a big green MSU "S" on their license plate. Most people simply stop there, and end up sending some additional money every year to our Secretary of State (DMV everywhere else) and Michigan State University.  However we've collected the top 25 best examples of drivers who went a few steps further than the big green S and fully personalized their vanity license plates. Some are simply names, some hint at professional affiliations, others just clever words.
Sports is a major theme
For those readers who are not big on college sports the mascot at the Michigan State University is the Spartan (or more affectionately known as Sparty), and the fan club and students are often referred to as Spartans. This is useful to help understand the origin and meaning of some of the MSU vanity license plates below.
For anyone far away from the state of Michigan or beyond a comfortable road trip into their region we've done you all a favor and captured these MSU vanity license plates ourselves.
Maybe you want a less in your face, supportive Spartan vehicle decal sticker that does not require additional annual vehicle registration costs.
Okay, so in no real particular order is our list of 25 of the best MSU big green S vanity license plates.
These are essentially the holy grail, as all new MSU vanity license plates now have the spartan head logo instead of the S. We are not sure when that change happened, but check out these lucky elite who spelled with the old green S. It also means that the last of these plates will be legally on the road 10 years after the issue of that S plate.
1  SEATRTL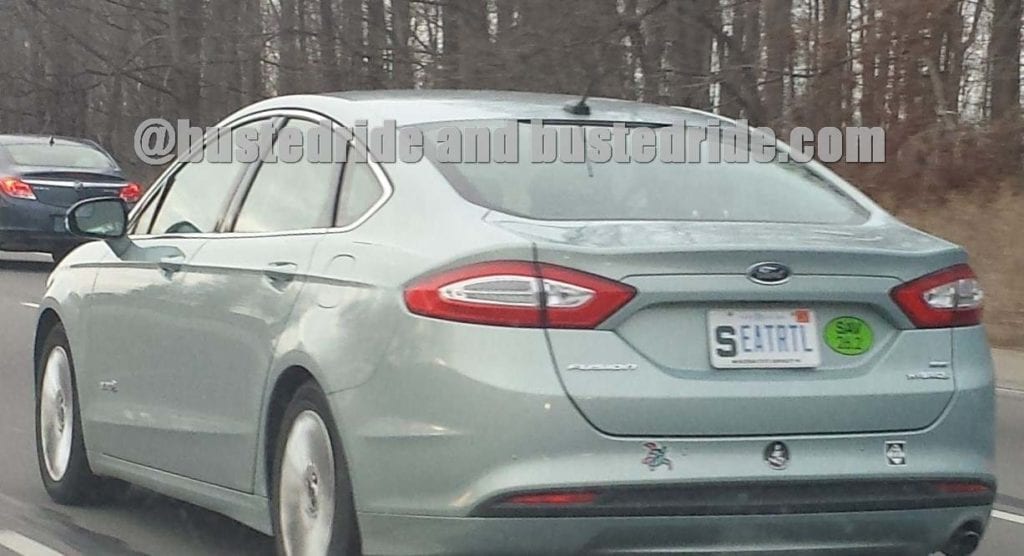 Seatrle, or if you didn't already figure it out sea turtle. Not as easy to see in the picture this particular Ford Fusion was sporting a rather light peaceful shade of green, so this driver has literally wrapped themselves in a safety net of Green, in their education, vehicle, and then with the cherry on top, the big Green MSU S, to spell out sea turtle.
2 SPRTYHD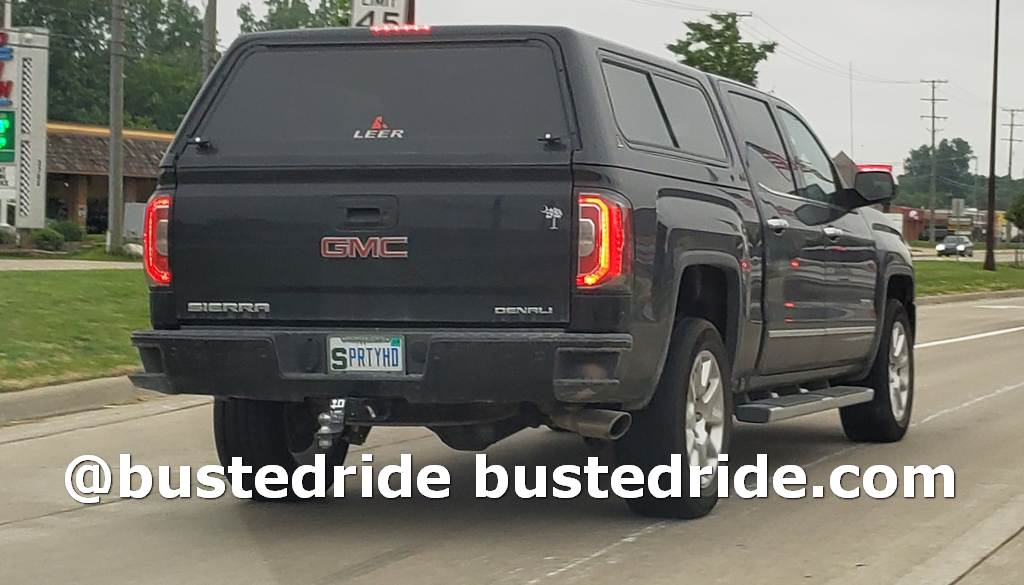 What can you say that hasn't already been said about hard partying Michigan State University students who honestly celebrate their football and basketball teams win or lose often times with couches on fire? This GMC Sierra driver managed to use the MSU S to declare as we translate this that they SPARTY Hard. However we suggest upgrading that trailer hitch to a fancy MSU S.
Surely we expect to see some cornhole going on during their tailgating, decked out with MSU bean bags. Or if you are handy like most truck driver should be, you can fashion your own cornhole boards up, and get these high quality logos to show who is the biggest MSU superfan.
3 SPART4N
We are quite confident that this SPRT4N driver has the the type of vehicle that would be sporting some of the best tailgating gear at the Football game. We'd bet that they even have a great cornhole set like this. Spart4n original post. However we suggest upgrading that trailer hitch to a fancy MSU S.
4 STOPUM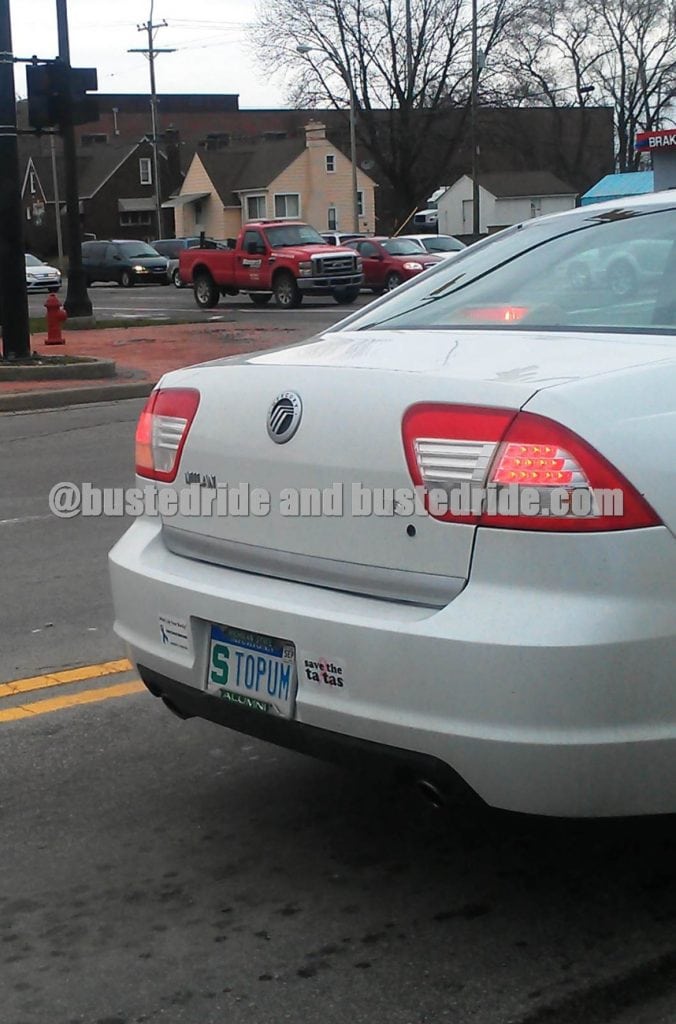 STOPUM is a pretty interesting vanity license plate, as it manages to use the MSU big green S, so you know they are excited to shout STOP, UM, or University of Michigan for those of you unfamiliar with the rivalry.
5 SPRTY9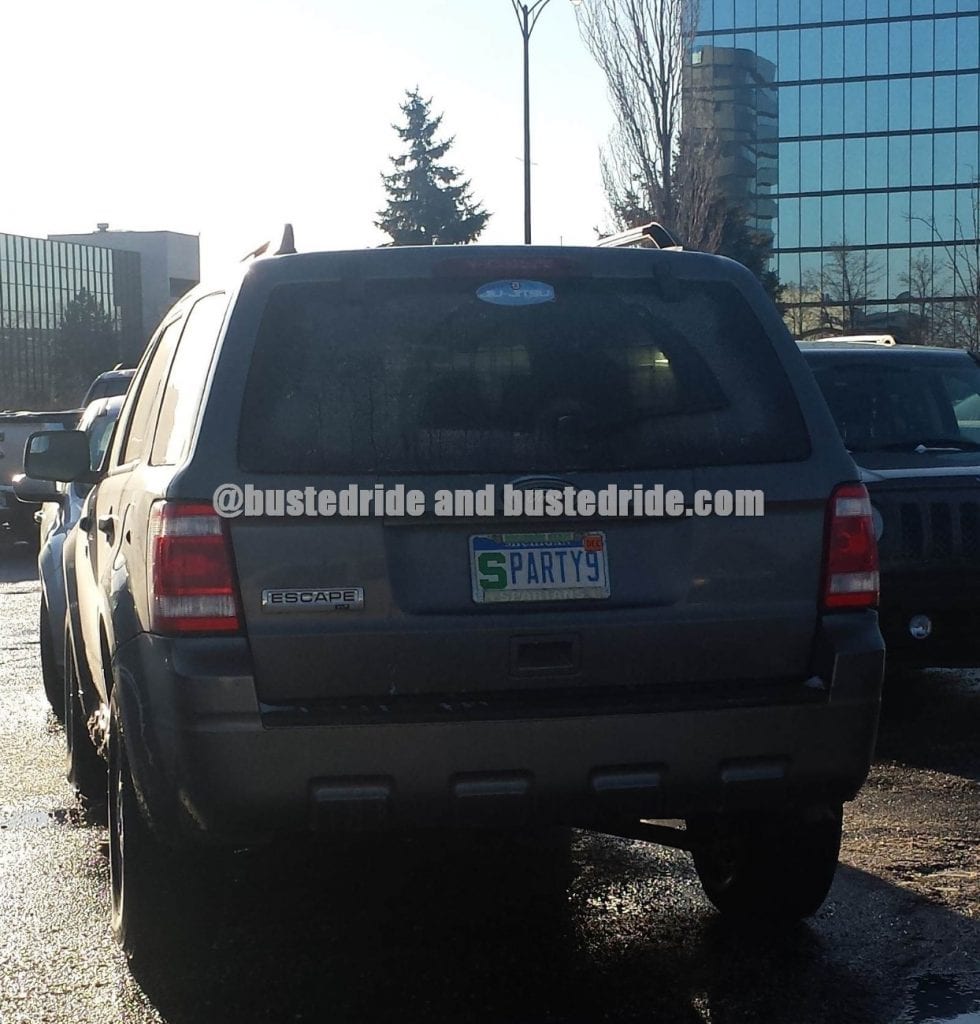 We almost have to put an * on this SPARTY9 vanity license plate, and highlight that there must be with a giant great MSU S, a SPARTY, and then SPARTY1 through SPARTY9. We've only found in the wild, as you guessed SPARTY9.
6 SCHMIDT
Usually when we think of anyone named SCHMIDT, we think of a family name, and somehow this just looks correct for a use of a family name to tie in your love of Michigan State University, putting your name on stuff, and showing off your family. Original post
7 SAMMIE1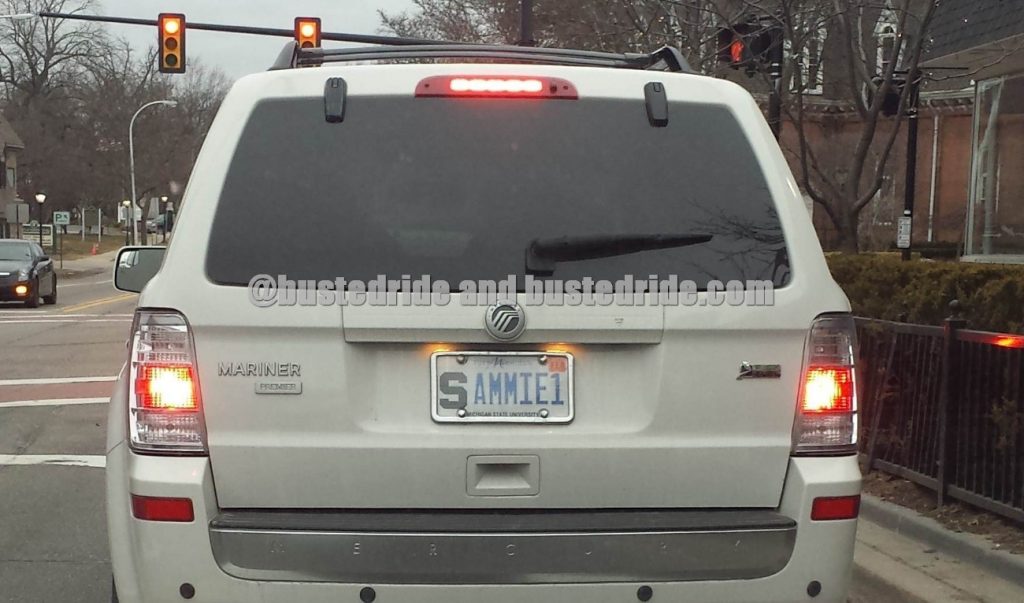 So much like with the SPARTY example, we only have found SAMMIE1, but just know somewhere driving around the great state of Michigan there is an original MSU Green S SAMMIE, and probably one day up to 8 more of these type of vanity license plates. Original Post here
8 SUBTLE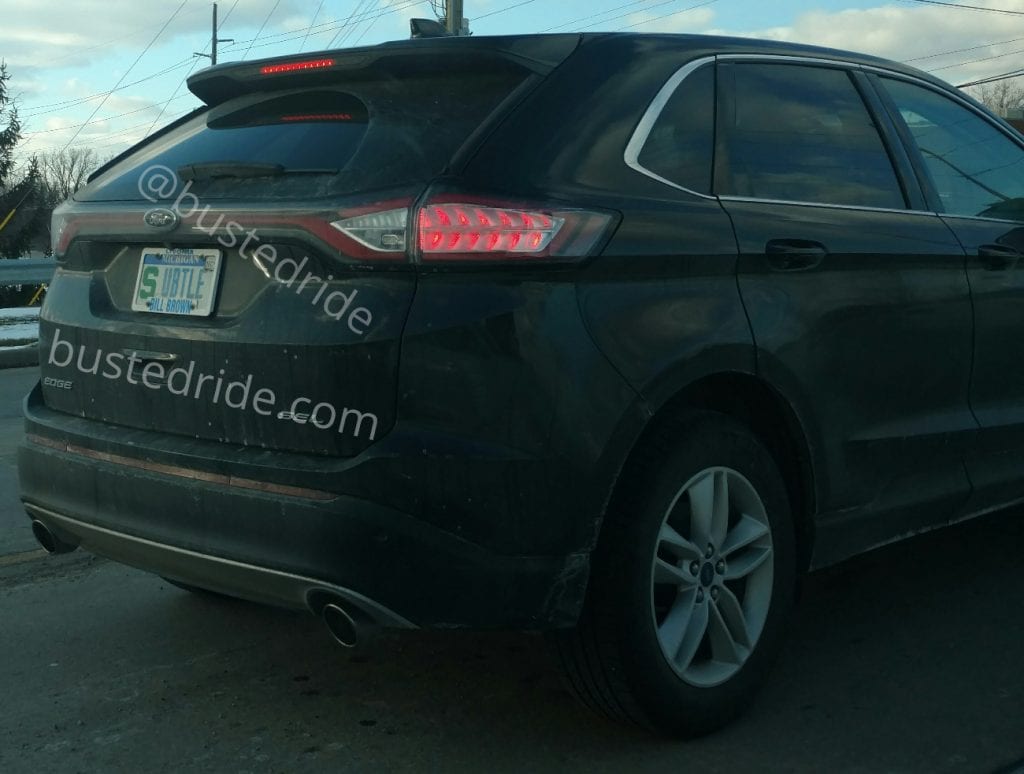 We have seen various ways to spell SUBTLE, however this is the only one that will ever be with a big green Michigan State University S.  We are relatively intrigued at why so many drivers decide to attempt to show off their vanity, in a personalized vanity license plate, and then dull the shine on a term that diminishes their hey hey look at me here, I have a special license plate, how cool am I hey, hey look here; but do it subtly. Or you know get a fancy MSU Sparty key chain ornament.
9 SPRTN84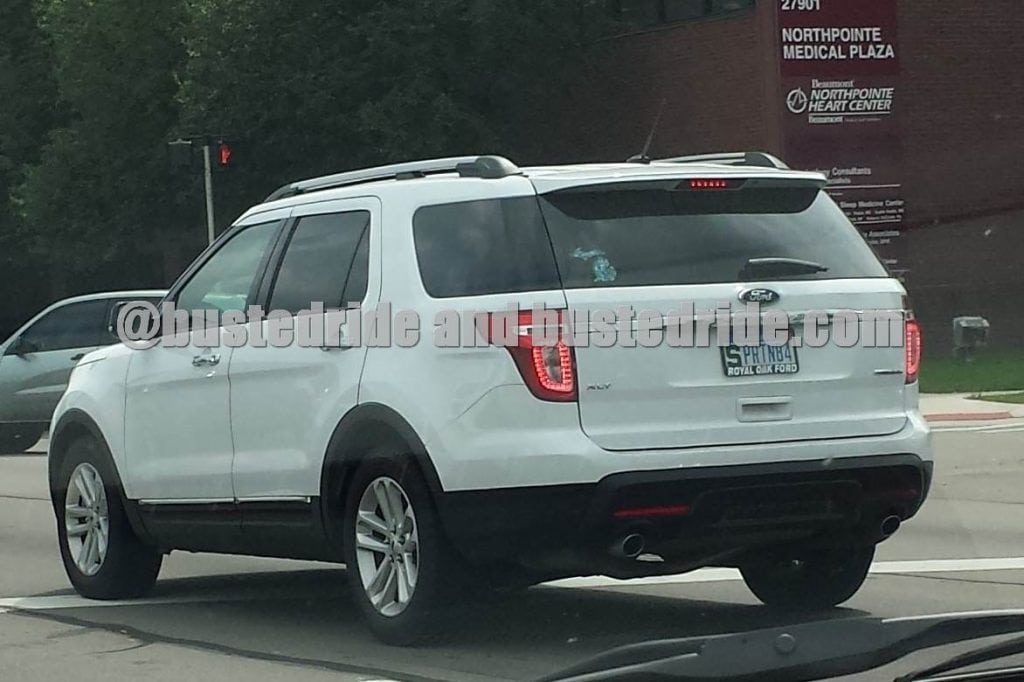 A pretty popular personalized vanity license plate idea is to pop in your graduation year in accordance with you theme, so for this driver, our educated guess is that they graduated from Michigan State University back in 1989, and they are still a loyal SPRTN84 to this day. (S)prtn84 original post.
10 SPENCER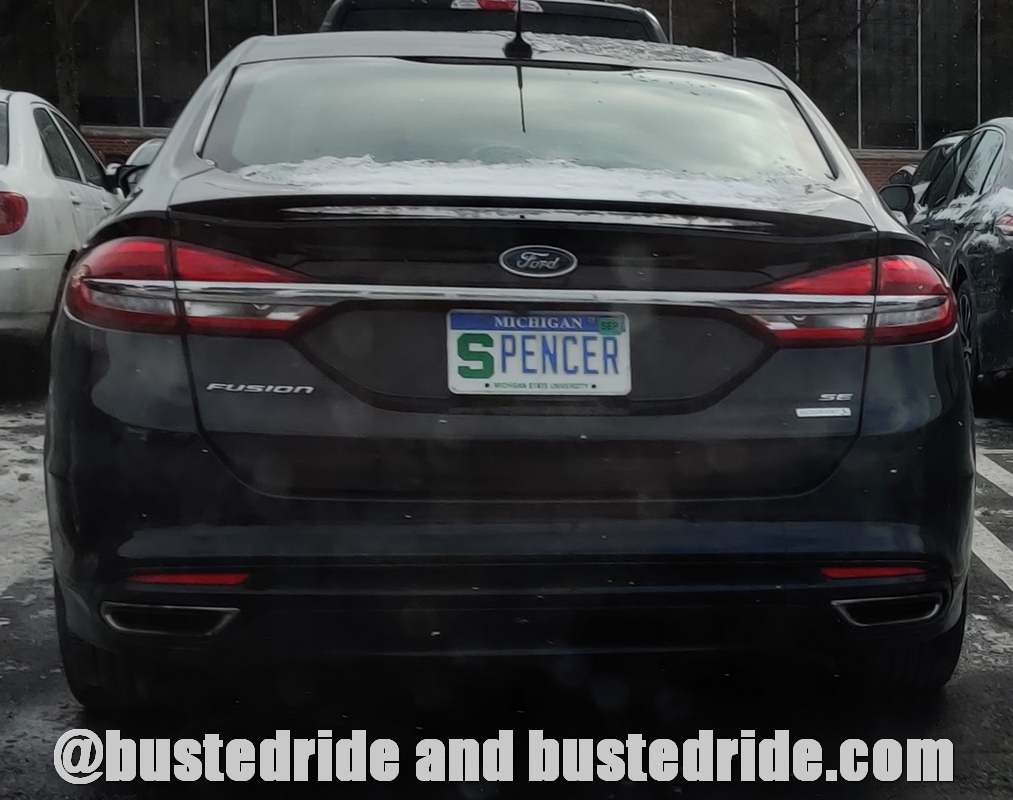 Just like SPENCER did, how can't you at least try to get you name if you have an S name, and attended Michigan State University, to maximize that big green S?
11 SOKRMOM or Soccer Mom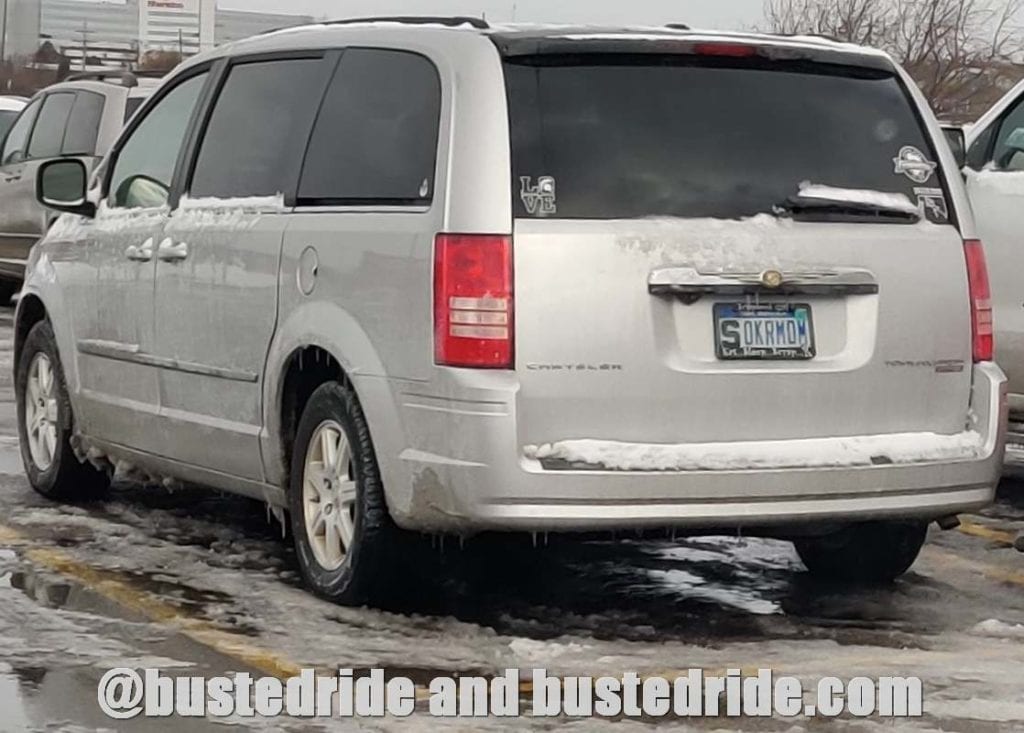 This is one of the most fitting themed personalized vanity license plates, they fit in the stereo type the "soccer mom", they have the quintessential, mom vanity license plate, and to top it off they are driving the original soccer mom vehicle of choice, a Chrysler Town and Country minivan. Check out our dozens of minivan vanity license plate ideas here.
12 STORK97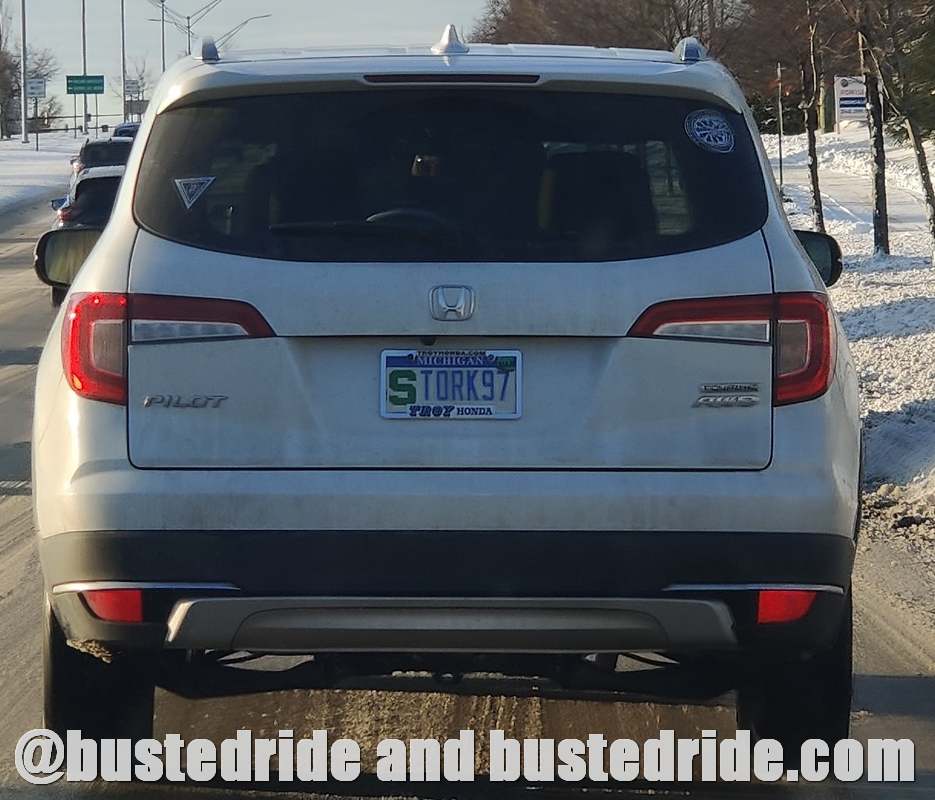 This driver could be a fan of the bird Stork, or we suspect more likely in the medical field helping to bring newborns into the world, and they also happened to graduate from Michigan State University back in 1997. As the myth goes storks deliver newborns by flight.
13 SIMPLY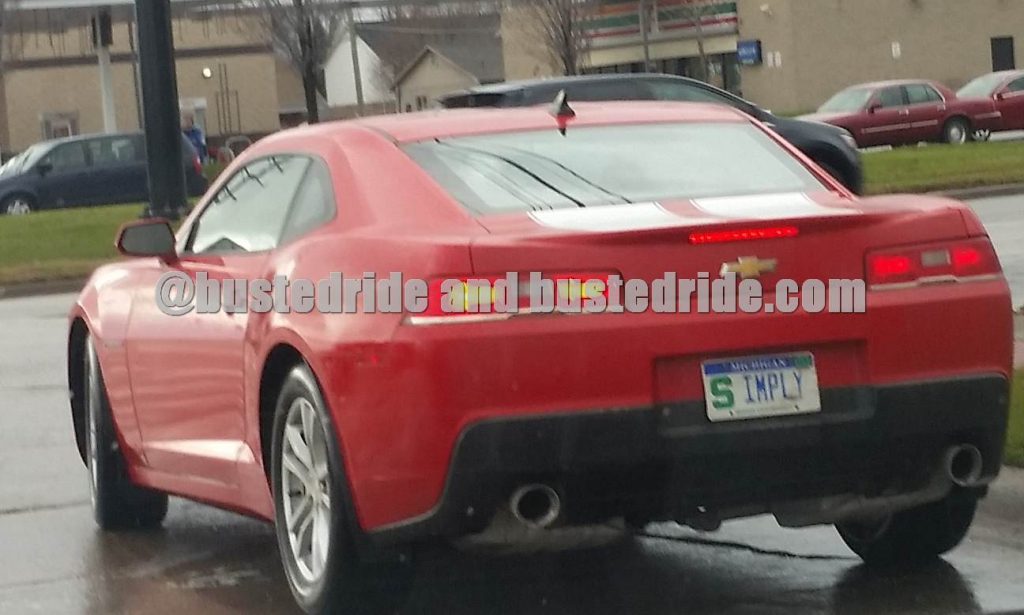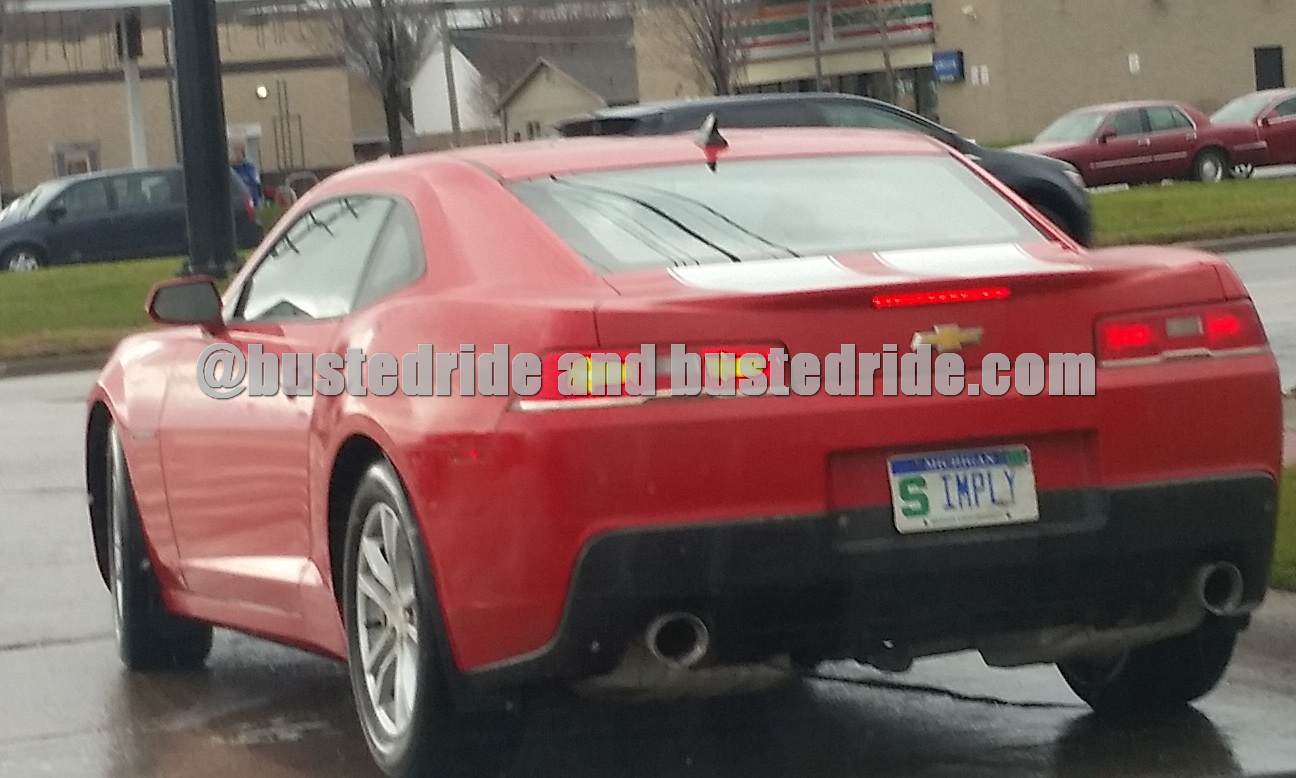 We can't say it enough one does not SIMPLY post thousands of unique personalized vanity license plates the way we have managed to do since 2013. We have fresh content coming out for years, so keep coming back, we have some daily fresh vanity license plates. Check out our
original post of Simply here
.
14 SAFETY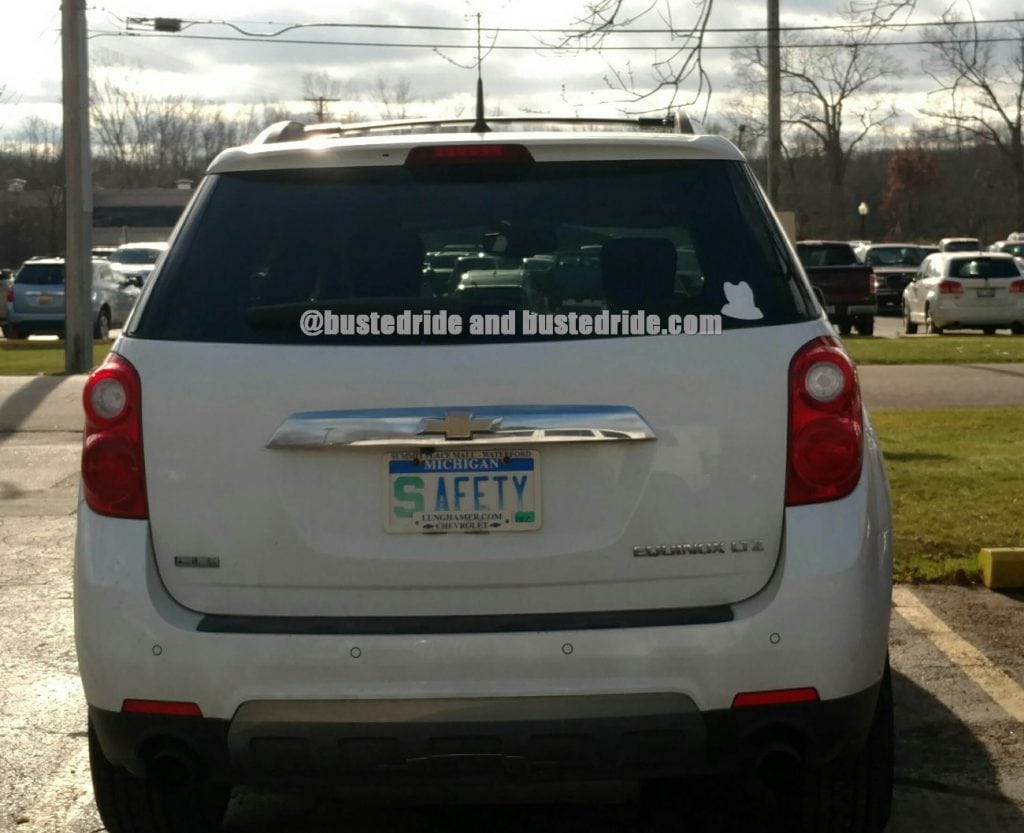 This driver could be a SAFETY officer at their employer, they could be a fan of getting safeties in football, and hence sport their love for Michigan State University on their vehicle year round. Check out our
original post of SAFETY here
.
15 SOFTTOP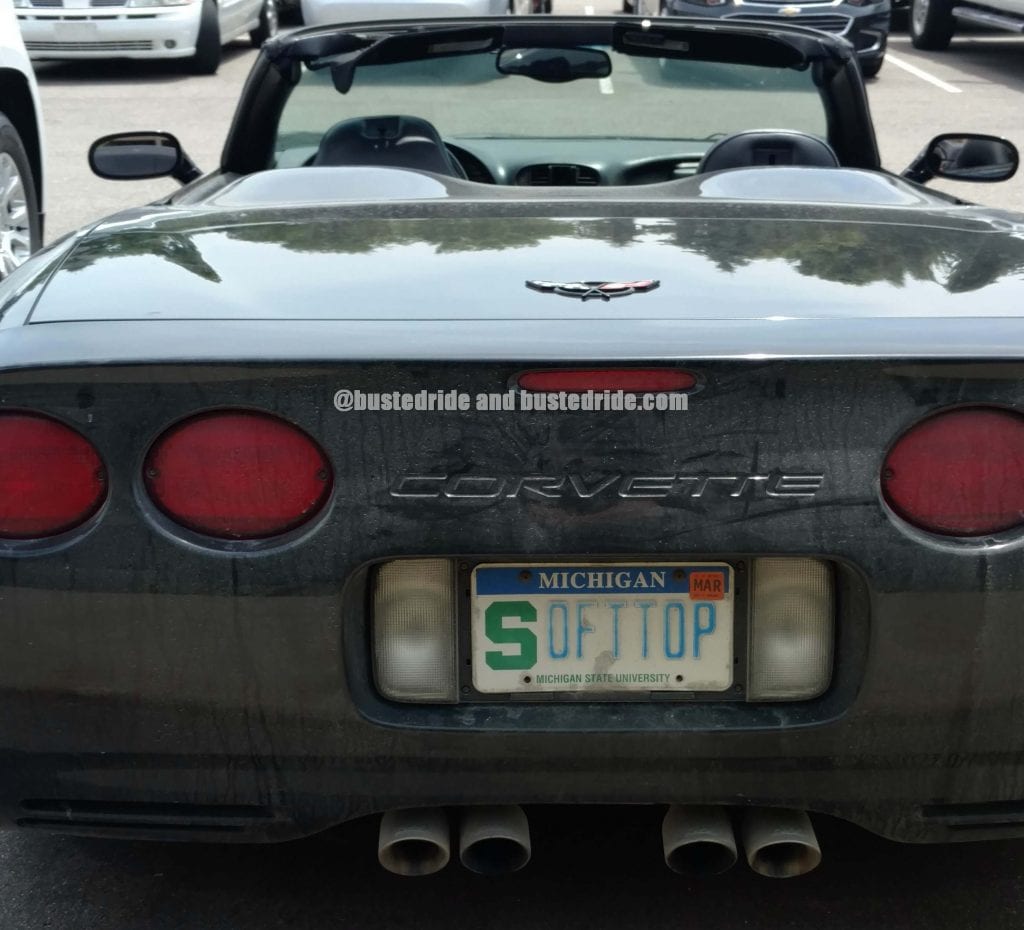 Wow, how many Corvette drivers wish they had SOFTTOP on their vehicle? Probably quite a few when the weather is nice, but only one managed to get a giant Green MSU S to spell it out to everyone else on the sidelines wishing they had one.
Original post here
.
16 – SEAMES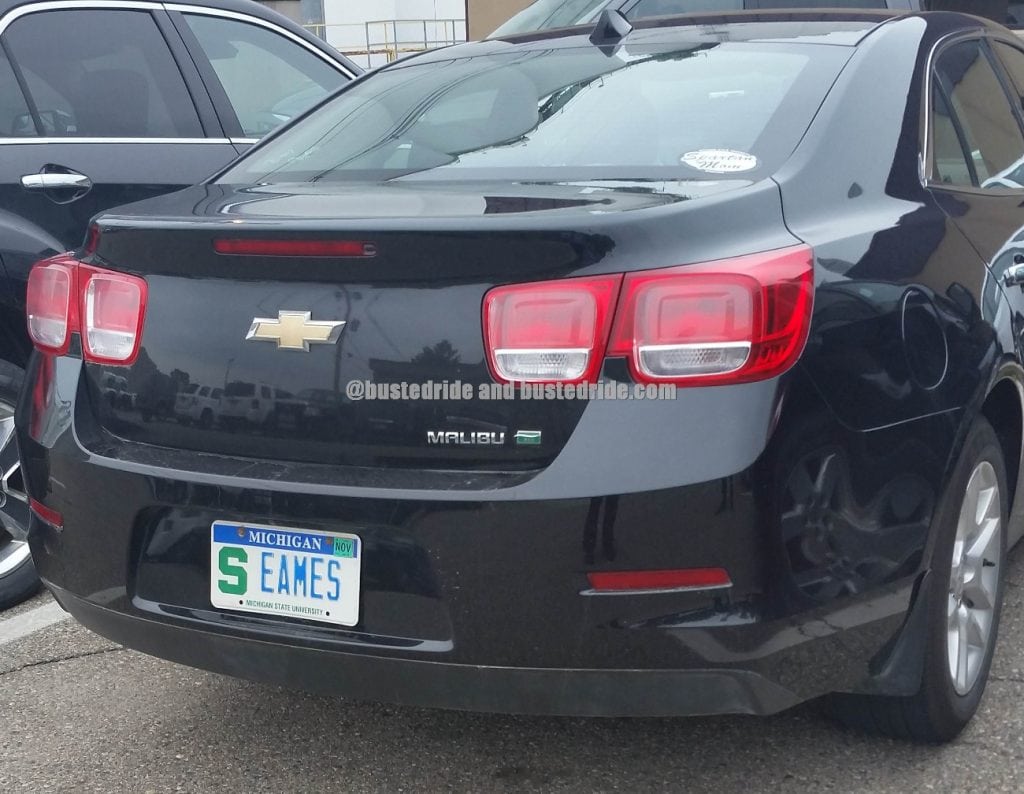 17 SIKT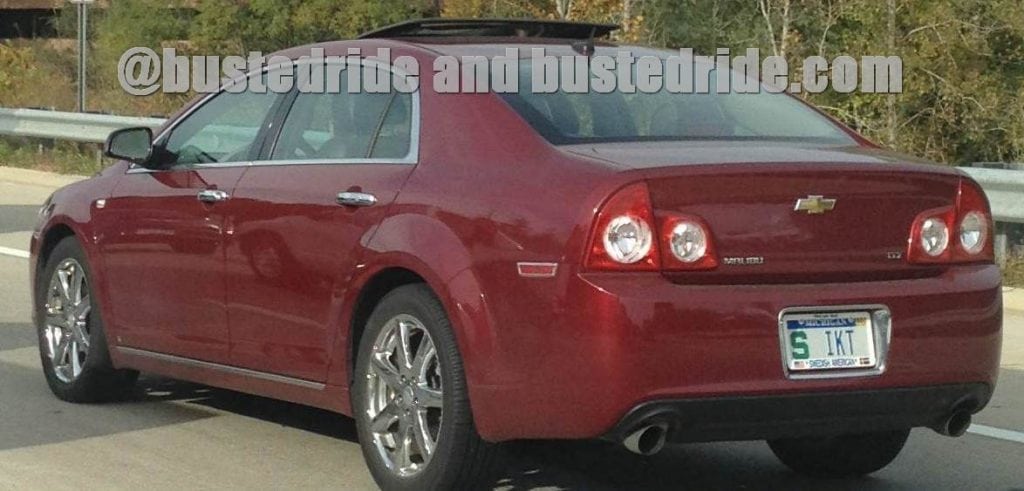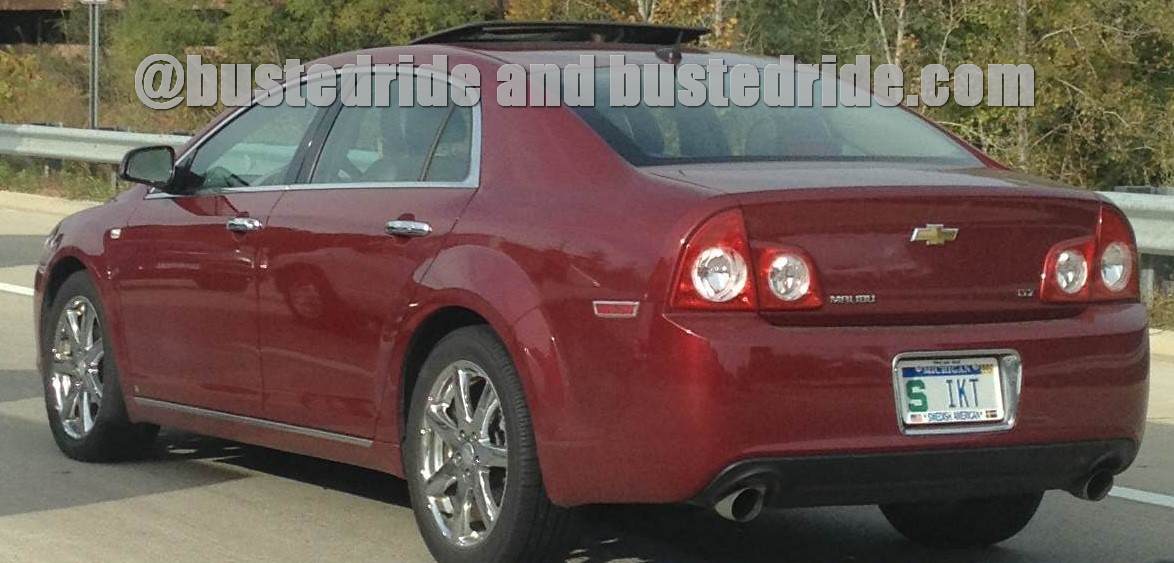 18 STOCKS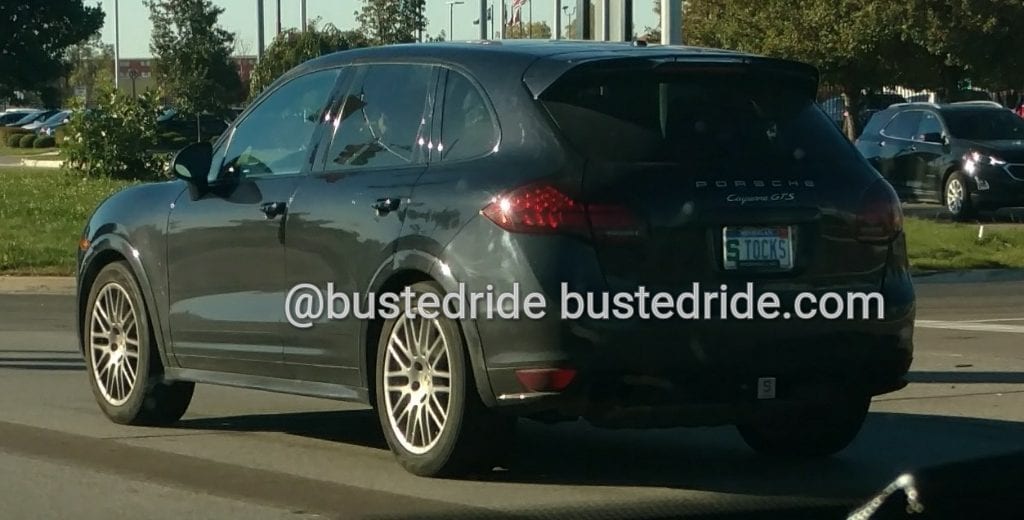 Who doesn't marvel at American Greed, there is after-all a TV show named after the most epic white capital crimes, if you like some American Greed themed vanity license plates check out our
Wall Street Bets vanity license plate collection
, and maybe get your own ideas to join the club of the filthy rich, who drive obscene vehicles, and have the vanity license plate to prove how rich they are.
19 SHERI M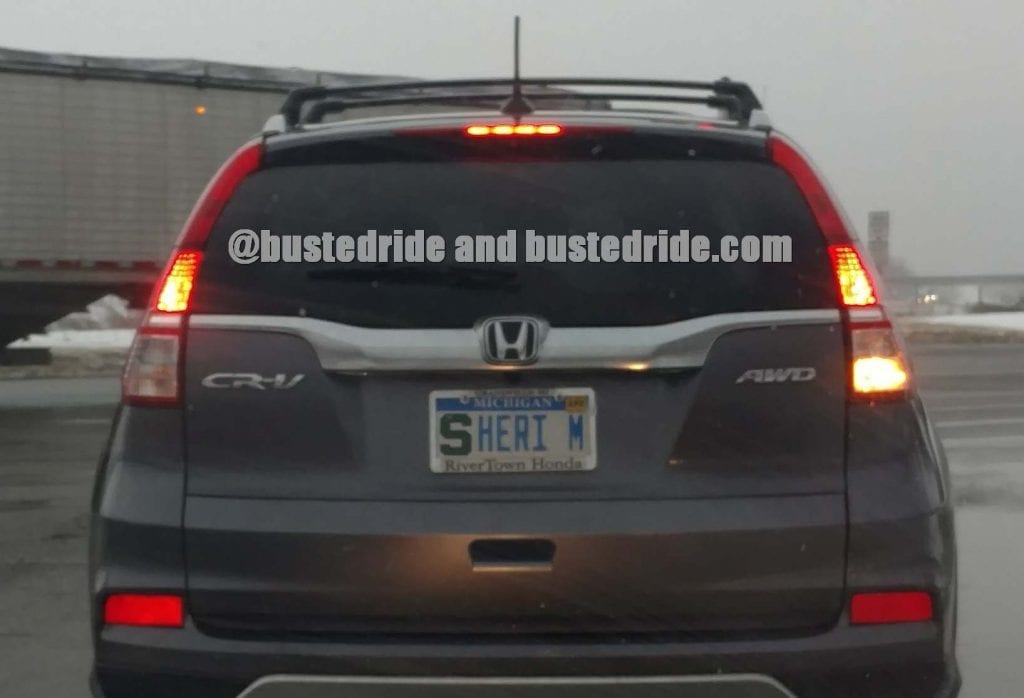 We
don't know SHERI M
, but we do know she was smart enough, and quick enough to claim her name Sheri using the Michigan State University S. So Bravo Sheri, Bravo.
20 SIDEBAR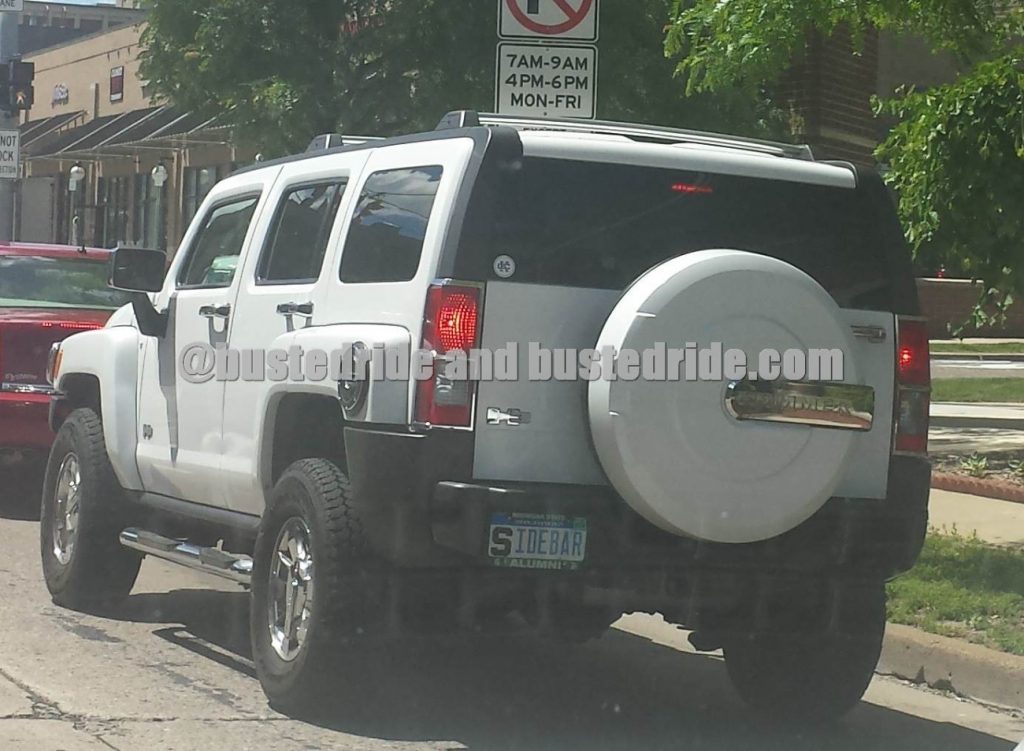 One of the few things we happen to know about Michigan State University besides the epic couch burning parties that typically accompany MSU's football winning and losing cycle, is that they happen to have a pretty strong reputation for the study of law. We figure that this (we suspect lawyer)
has many a SIDEBAR
's with various judges around town for their clients. Or maybe they just enjoy legal courtroom drama TV like the rest of us.
21 SCOTT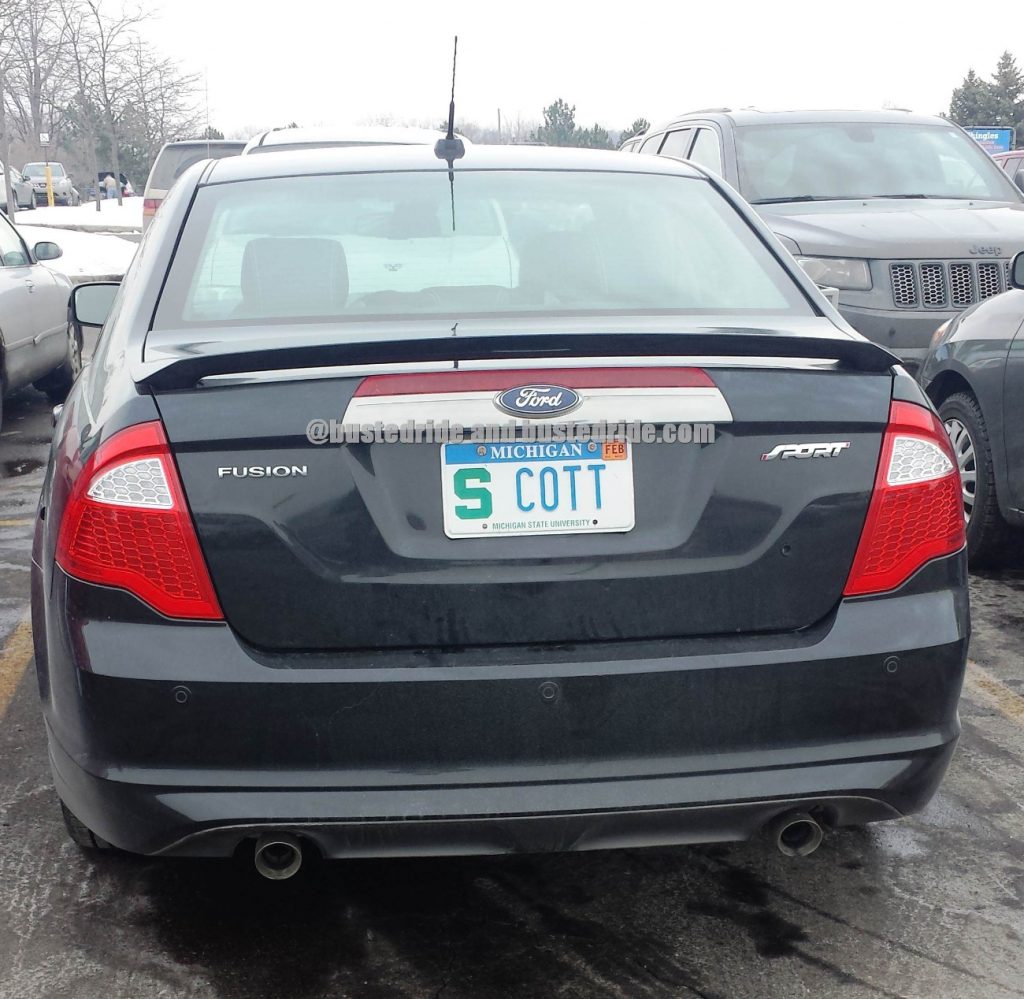 I mean what else can you say
besides SCOTT was first in line
, and sometimes being in the right place at the right time with your name, and some cash is all you need to secure a vanity license plate you can proudly hang on your vehicle.
22 SAILING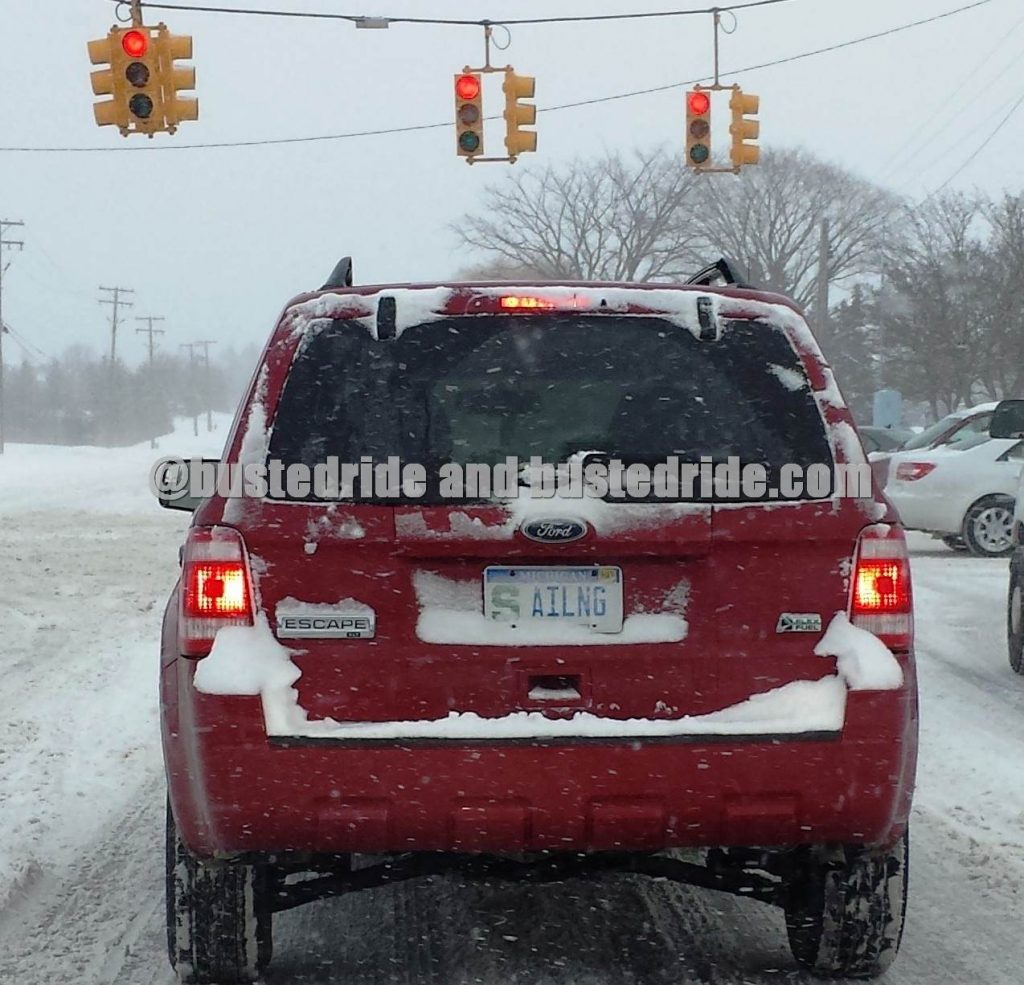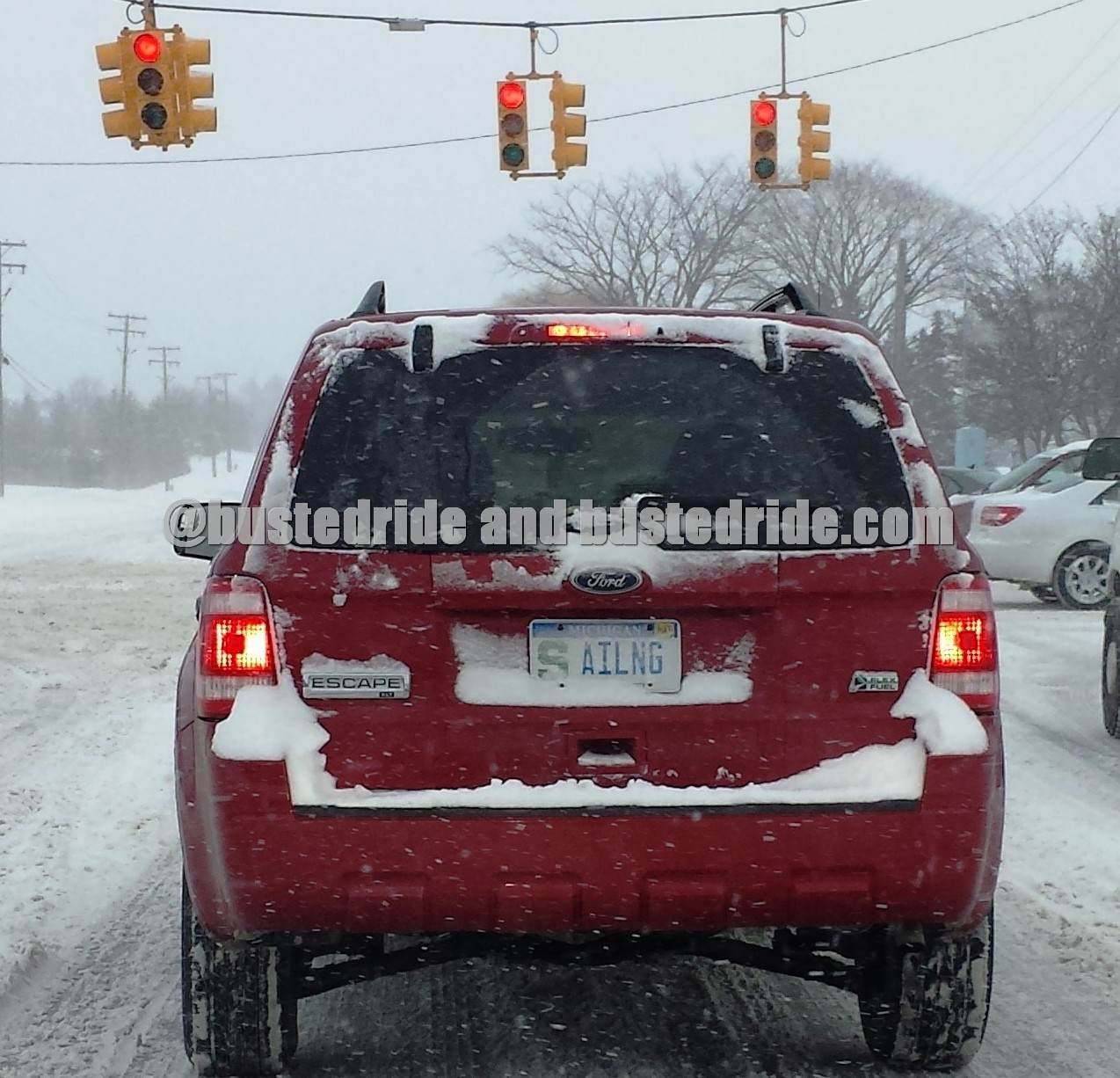 23 SMART1E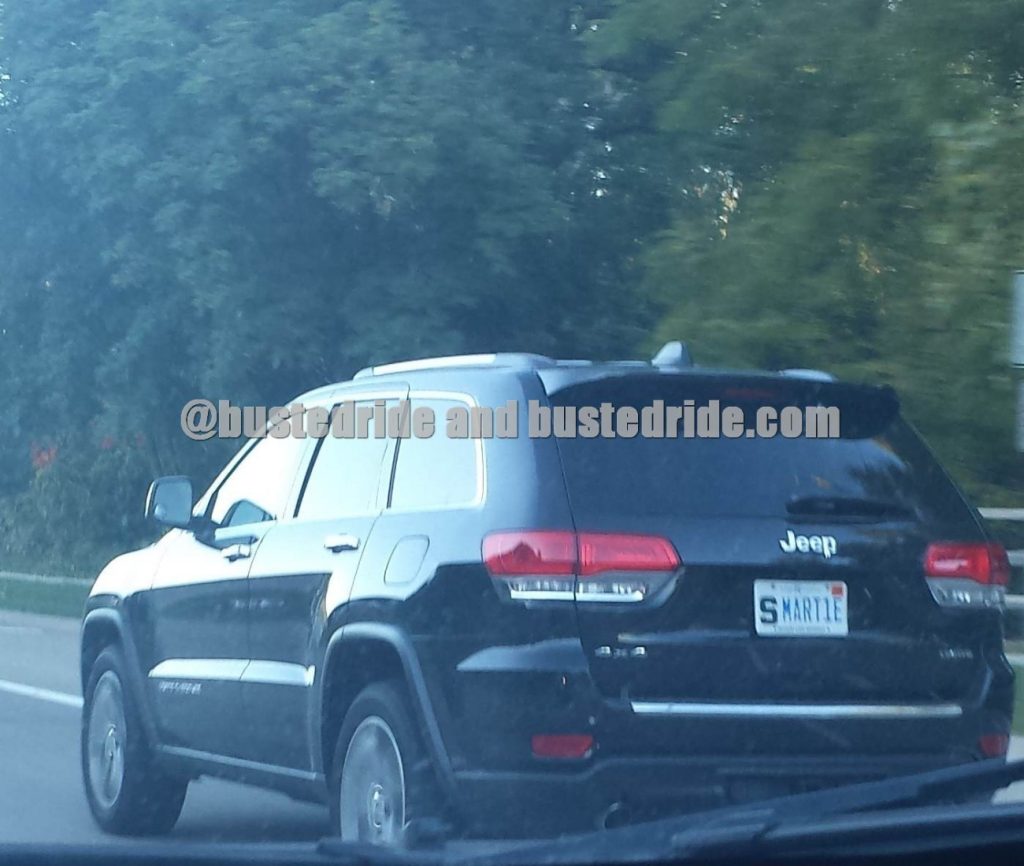 24 SSOUNDD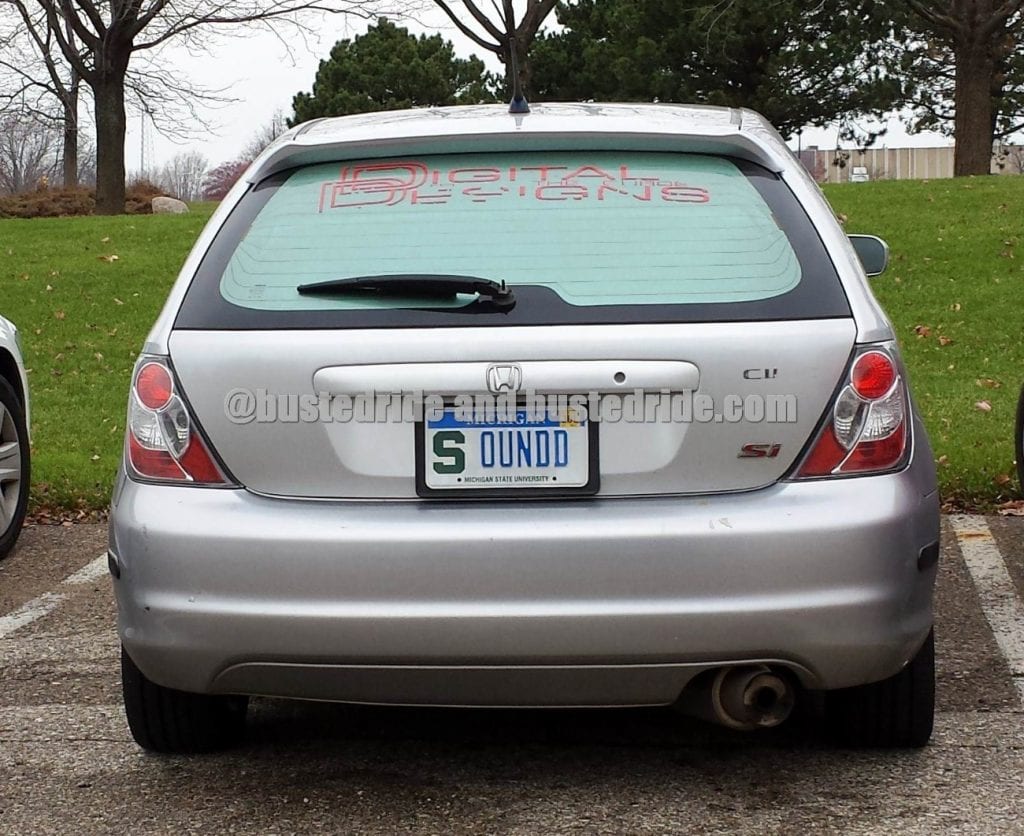 We have a special place in our hearts for sound, more in the fine ways of the often underappreciated field of Sound and Vibration, typically called NVH or Noise Vibration and Harshness. It is something that on great products that sound "good" you often assume they just sound that way, and often don't realize that more often than not a team of talented engineers took great pride in tailoring a product to sound a particular way. We also appreciate that this
driver balanced the MSU S with a normal S, and then added a second D
, to add some symmetry to their vanity license plate.