Volkswagen Beetle inspired personalized vanity  license plate idea inspired by sexuality: NOT GAY
We must say we are somewhat surprised we didn't find the Michigan registered Not Gay Volkswagen Beetle ourselves. Somehow it popped up on a Reddit post, which we can't find any longer, so original credit goes out there somewhere.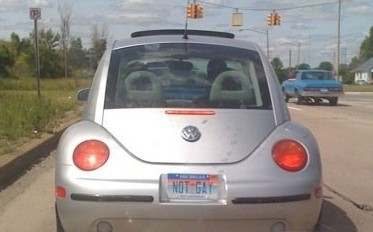 However in our search for the Michigan plate post to give some credit we found that there is at least two vanity license plated VW Beetles with the same idea.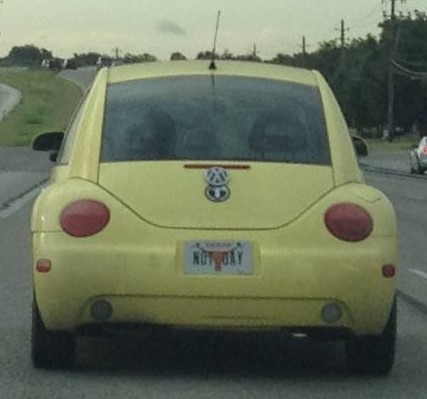 A driver (Reddit poster dccse3k) captured another driver in Texas thought it was also a great idea to have the same vanity license plate, on essentially the same vehicle however registered in Texas, which probably does make it more…ironic we suppose. As Texas has all of the macho cowboy, oil rigger manly men stereotypes.
For those of you really sharp readers you note this Texas vanity license plate also has the Texas steer license plate, which is pretty famous movie quote from the movie Full Metal Jacket.
Looking for more Volkswagen VW Bug inspired vanity license plate ideas?
For various reasons VW Beetles have been the go to vehicle to have a vanity license plate put on them, but the real king in the last decade or so has been all of the recent converts to driving Jeep's. Jeep drivers have firmly taken the crown, and well maybe that is why Volkswagen is killing off the Beetle after 2020.
It is one of the most frequently spotted vehicles with a personalized vanity license plate.  Look no further no matter if you call them VW Bugs, slug bugs, love bugs, beetles, new beetles VW bug's we have an immaculate collection. Often fans of Volkswagen just like some German language or German culture themed ideas, or are simply fans of German brands like Volkswagen, BMW, Mercedes-Benz and love vanity license plates on all of these.