Personalized Michigan Pontiac Vanity Plate Idea inspired by a name: JADAPOO
JADAPOO we figure is like a petname for a person like a cheekypoo or sort of an annoying babyname style nick name that some couples insist on having. It's pretty annoying actually, try not to do that. Worse still, is getting a vanity license plate of the terrible name experience.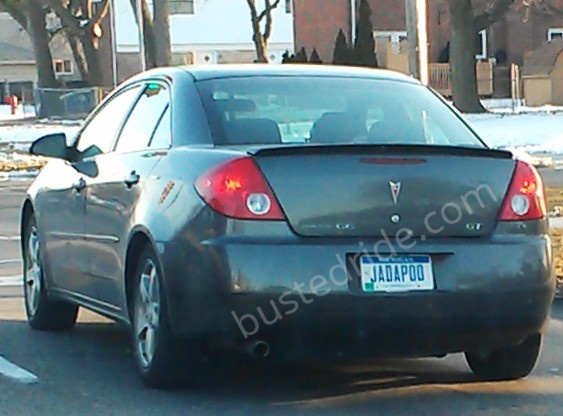 Are you looking for more personalized Pontiac vanity plate ideas, or maybe other dead car brand vanity plates?
Look no further than our collection of Saturn vanity plate ideas here, and other famously dead General Motors automotive brands like Oldsmobile vanity plates, Pontiac vanity plates, Saab vanity plates. We didn't forget about Ford's dead castaway Mercury various vanity plate ideas. Hey even Toyota killed off its niche Scion brand and vanity plate fans loved those quirky cars.