Archive for November, 2013
Generally Volkswagen drivers seem to repair their cars.  This Passat driver didn't take the typical German pride in their busted ride this deck lid was…Read more
Happy Thanksgiving! Here is a special vanity plate for today.
While this driver is not in a more famous vehicle tied to golf like a Cadillac Escalade (thank you Tiger Woods) Watch South Park's take…Read more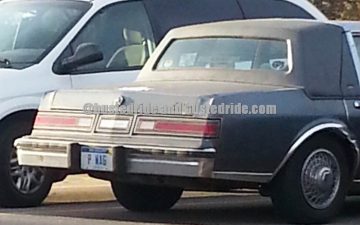 One can only assume that this one wouldn't fit and get by Secretary of State officials in Michigan. P Wag: Here is the classic Kill…Read more
We're pretty sure that this guy isn't advertising for the hotel chain Days Inn.  Probably more of a day dreamer.
This Jeep Grand Cherokee appears to be hilarious.  It also looks to be in some sort of modification cycle. Thanks again Melissa!
So this is just a classic vanity plate to have on a Jeep. The only thing that could make it better if the plate was…Read more
It's Veterans Day here is a random Ex Marine Corps veteran for you.  Thanks for serving wherever you are!
Well as it turns out with all of the religious vanity plates out there, we have one more.