Archive for May, 2013
Generally people who drive around with Vanity Plates have clean cars. This Toyota Matrix on the other hand was really busted, front bumper cover is…Read more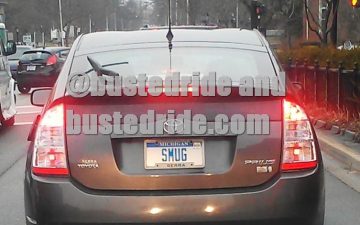 This driver knows that the vanity plate should be honest. You probably can't be more smug than driving a Hybrid Prius, just imagine when this…Read more
Loyal T is important you know.
It never fails when you need to figure out something on your car, and you can't find your manual or it never came with your…Read more
Initially I spotted this plate and I hoped somehow it was Ladydock again.  I knew it was too good to be true though.
This isn't a busted ride, but it was a pretty cool sighting.  Looks like one of the 1989 Batman movie type. It isn't exactly a…Read more
Pretty self explanatory this guy purchases GM products. It does remind us of the Blue Oval fan, but that guy drove a better car.
Clearly this driver is just loaded with money.  Most likely they purchased their GMC in cash, hence No Lien.
This driver just really loves rainbows as displayed on their rear window and vanity plate.